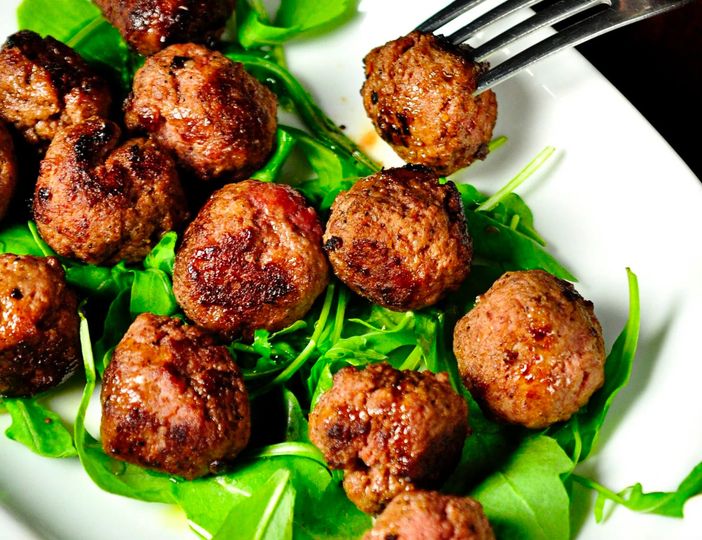 These aren't your grandma's meatballs! These are the perfect flavorful bite to bring to your next get together! Try out this recipe with our Summerfield Michiu and Aoki Sesame oil for the perfect meatball glaze!
INGREDIENTS
1 pound ground pork
1 teaspoon red pepper flakes
1 teaspoon garlic powder
1/2 teaspoon garlic salt
1/2 teaspoon ground ginger
1 egg, beaten
1/2 cup breadcrumbs
2 tablespoons Aoki Sesame oil
2 tablespoons honey
2 tablespoons soy sauce
1 tablespoon Summerfield Michiu
2 cloves garlic
1 tablespoon cold water
1 tablespoon cornstarch
DIRECTIONS

1. Preheat oven to 350 degrees.
2. In a medium size mixing bowl combine all of the meatball ingredients (ground pork-breadcrumbs) until well combined.
3. When the mixture is combined roll into small balls, about the size of a golf ball and set aside.
4. Heat an oven proof skillet to medium heat and coat with Aoki Sesame oil.
5. Place your meatballs evenly in the skillet and brown on all sides 4-5 minutes, turning occasionally.
6. Place your skillet in the oven and allow the meatballs to cook 10-12 minutes until they are fully cooked.
7. When the meatballs are completely cooked use tongs to remove the meatballs from the skillet and place on a paper towel lined plate.
8. Drain any grease from the skillet.
9. In a small bowl or measuring cup combine all of your sauce ingredients except the water and cornstarch.
10. When the meatballs are cooked through place your skillet back on the stove over medium heat and remove the meatballs from the skillet and set on a paper towel lined plate and drain off any grease in your skillet.
11. Pour your sauce mix in the skillet heat over medium low heat.
12. Meanwhile, combine the cornstarch and water in a small bowl and pour in the skillet while stirring continuously. When the sauce begins to thicken add the meatballs back to the skillet and allow it to cook over low for 3-4 minutes so they are coated and soak up that delicious flavor!