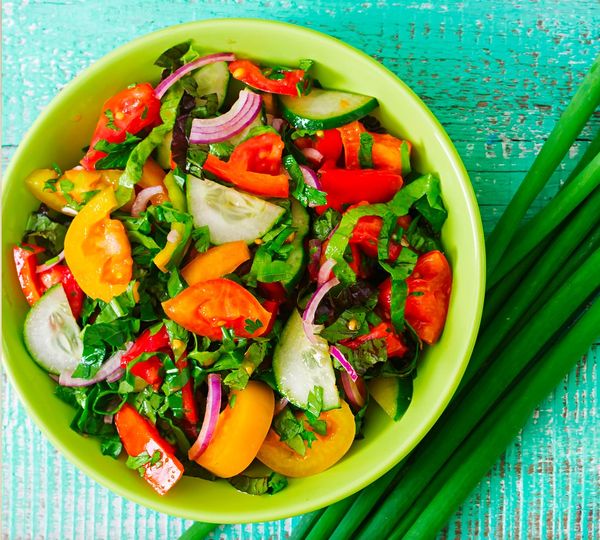 The taste of summer all year round! Try our Cucumber Tomato Salad and let us know what you think! Try out this recipe with our Summerfield White Vinegar and Simply Canola and Olive Oil Blend for the perfect combination of flavors !
Additional Time:
5 Minutes
INGREDIENTS
5 large tomatoes, quartered
1 English cucumber, peeled and sliced
1/2 large red onion, sliced
2 tablespoons chopped fresh parsley
2 tablespoons chopped fresh cilantro
1 pinch kosher salt + 1 pinch black pepper
1/2 cup Simply Pure Canola and Olive oil blend

1/4 cup Summerfield White Vinegar
1 teaspoon kosher salt
1 pinch freshly ground black pepper
1 garlic cloves, minced
1 teaspoon honey or brown sugar
1 teaspoon dried oregano
DIRECTIONS

1. To make the tomato-cucumber salad: In a large bowl, combine all ingredients for the salad: tomato, cucumber, red onion, parsley, and cilantro. Sprinkle with salt and pepper and toss to combine.
2. To prepare the dressing, throw all of the dressing ingredients into a small bowl or a mason jar and whisk together vigorously, until well blended.
3. Pour the dressing over the veggies and toss gently.
4.Cover the bowl with plastic and let sit at room temperature until ready to serve, for 1 to 3 hours. This will allow the flavors to meld together. Serve the tomato-cucumber salad when you're ready, enjoy!