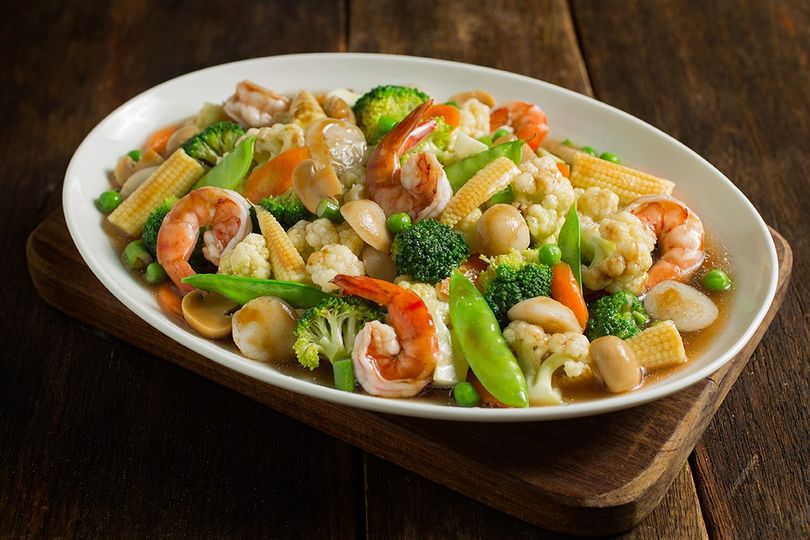 Shrimp Stir-Fry

This easy Shrimp Stir Fry is light on sugar and BIG on flavor! Pair it with white rice, or try cauliflower rice for a low carb option. Try out this recipe with our Summerfield Muchiu and Aoki Sesame Oil for the perfect stir-fry!
INGREDIENTS
6 tablespoons soy sauce
6 tablespoons water
¼ cup honey
2 tablespoons Summerfield Michiu

2 tablespoons cornstarch
2 tablespoons Aoki Sesame Oil

2 cloves garlic, chopped
1 small white onion, chopped
2 cups broccoli/cauliflower

1 cup baby carrots
1/2 cup baby corn

1 cup water chestnuts
1 cup snow peas

½ teaspoon black pepper
1 cup sliced fresh mushrooms
1 ½ pounds uncooked medium shrimp, peeled and de-veined
DIRECTIONS

1. Whisk together soy sauce, water, honey, Summerfield Michiu, and cornstarch in a small bowl; set sauce mixture aside.
2. Heat Aoki Sesame oil in a nonstick skillet over medium heat. Stir in garlic and cook for 10 seconds.
3. Add broccoli, cauliflower, snow peas, water chestnuts, carrots, onion, and black pepper; cook and stir until broccoli and carrots are tender, about 5 minutes.
4. Stir in mushrooms and cook for 2 minutes. Remove vegetables from the skillet and set aside.
5. Return the skillet to heat and pour in sauce mixture; cook for 1 minute.
6. Add shrimp and stir until shrimp are bright pink on the outside, meat is no longer transparent, and sauce thickens, about 3 minutes.
7. Stir vegetables into the pan and serve over rice.