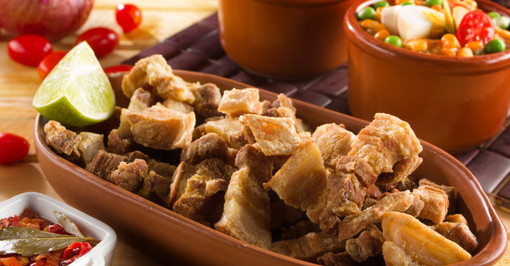 Crispy, spicy and full of flavor – this recipe is the perfect vegetarian option for your plant-based party guests! Try out this recipe with our Simply Pure Vegetable Oil for the best frying experience!
Total Time:
1 Hour 20 Minutes
INGREDIENTS
3 to 5 lbs pork back fat and skin
1 quart Simply Pure Vegetable Oil
Sea salt to taste
Pepper to taste
DIRECTIONS

1. Preheat oven to 250F and set a wire rack over a baking sheet.
2. Using a very sharp knife, cut pork skin and fat into long strips, about 2 inches wide. Score the fat on each strip every two inches. Insert knife carefully between skin and fat on one end of the strip and remove a portion of the fat (you will end up with a thin layer of fat still on the skin and that is fine).
3. Once that first part of fat is removed, you can hold the skin in one hand as you slide the knife down the strip to remove the majority of the fat. Again, a little fat still clinging to the skin is okay.
4. When the fat has been removed, cut each strip into 2 inch squares and place, fat-side down, on wire rack.
5. Bake 3 hours, until skin is completely dried out.
6. When baking time is up, heat Simply Pure Vegetable Oil to a depth of ⅓ in the pan. Or you can just have a few inches of oil and can cook your pork rinds in batches. Oil should be quite hot but not bubbling.
7. Add pork rinds and cook until they bubble and puff up, about 3 to 5 minutes. Remove and drain on a paper towel-lined plate. Sprinkle immediately with salt and pepper.