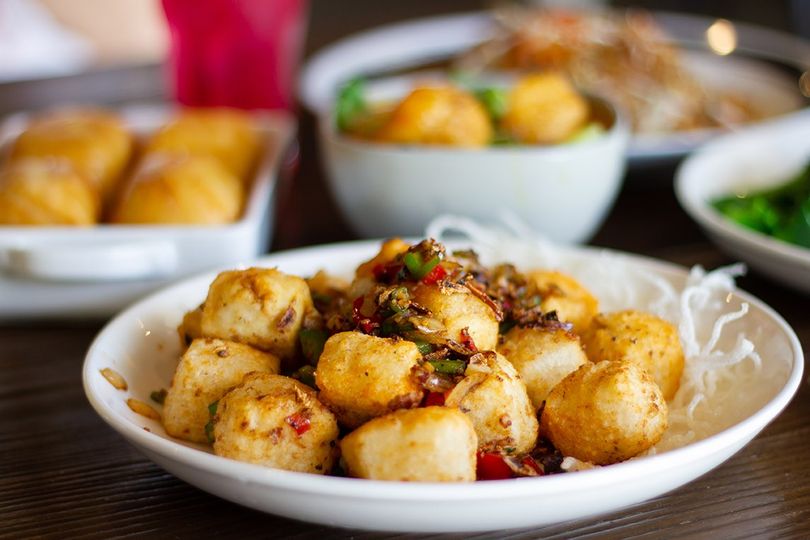 Crispy, spicy and full of flavor – this recipe is the perfect vegetarian option for your plant-based party guests! Try out this recipe with our Simply Pure Canola Oil for the most crispy tofu!
INGREDIENTS
14 ounces of Medium Firm or firm Tofu (cut into cubes)
1 tbsp of Salt
2 cups of Water
1.5 cups of Tapioca Starch
¾ tsp of salt
½ tsp of garlic powder
1 tsp of white pepper
½ tsp of ground Sichuan peppercorn
1 tsp of mushroom powder
¼ tsp of ground chili
6 cloves of garlic (minced)
3 red chili (chopped)
2 green onion (chopped)
1 quart Simply Pure Canola Oil
DIRECTIONS

1. Cut tofu into bite-sized pieces. Soak the tofu in 1 tbsp of salt and 2 cups of water. Make sure all the tofu is soaked in the water for at least 10 minutes.
2. Gently pat dry the tofu, and coat the tofu in tapioca starch. Let the tofu rest in the tapioca starch for 5 minutes while you heat the oil.
3. In a pan, add in Simply Pure Canola Oil, turn the heat up to medium-high. Add tofu once the oil is hot and let it fry for 3-4 minutes until crispy and golden brown.
4. Remove and set aside, optional but highly recommended, turn the heat up to high, and double fry in high heat for another 1-2 minutes to make it EXTRA crispy!
5. Mix all the ingredients for the seasoning mix – salt, white pepper, garlic powder, Sichuan peppercorn, mushroom powder, and ground chili.
6. In a pan, drizzle in oil and add in minced garlic, chopped red chili, and green onion. Saute together for 2-3 minutes.
7. Add in crispy tofu, season with seasoning salt, and toss in high heat for 30 seconds.